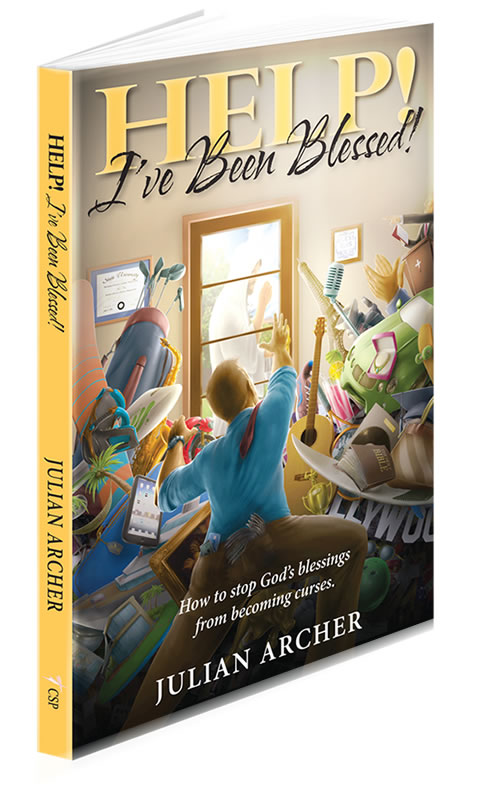 Faith vs Finance is a Christ-focused, not-for-profit ministry.
By God's grace we specialize in practical, spiritual support for Christians living in affluent societies around the world. Through seminars, books, videos, and the Faith vs Finance newsletter, we humbly plant seeds for the Holy Spirit to use to encourage individuals on their spiritual journeys.
Our ministry helps affluent Christians to address important questions such as:
Is there a secret to serving God
and money - simultaneously?
Is owning more than one
home spiritual suicide?
How can I raise godly children
in a materialistic society?
Is passive income just for
passive Christians?
Are there any true Christians in the
richest 1% of people on Earth?
Through the generosity of God, we also supply our resources for free or at cost to churches and charitable organizations to assist with their ministries, fundraising and outreach activities.
HELP! I've Been Blessed! is an easy-reading yet powerfully challenging exposé of the spiritual challenges faced by affluent Christians.
HELP! I've Been Blessed! will help you to:
Unclutter your heart so you can let Jesus in ... again,
Join the richest 1% of people on earth ... without losing your soul,
Raise godly children in a materialistic society,
Reignite your 'first love' with Jesus - even amidst the pressures (and the comforts) of affluence.
Julian Archer takes readers on a frighteningly honest, soul-baring journey into the world of a well-off, successful Christian businessman. He's an outwardly blessed man with a sinister and secret struggle—an eternal life and death battle—to try and stop God's blessings from becoming curses.
It isn't fiction.
If you live in an affluent, materialistic society and you're struggling to truly keep God at the centre of your life—to stay reliant on Him after he's blessed you so much that sometimes you don't feel you need Him —you will be challenged and inspired by reading this book.
However, if you're not feeling blessed at the moment, because you're struggling with relationships or poor health or insecurities or financial issues, then just bookmark this website and come back on a brighter day … because parts of the book could make you want to vomit!
Retail Stores Order Here:
Please order through our global distribution partner Ingram Content in Tennessee, USA.

AUDIO BOOK
An mp3 audio recording of HELP! I've Been Blessed! read by Julian Archer – no apologies for the Australian accent!

VIDEOS
A series of 2-4 minute video clips. Watch them yourself or use them to start small group discussions about faith and finance. Each clip is based on a chapter from HELP! I've Been Blessed!

TEACHING/DISCUSSION SHEETS
Based on key chapters from HELP! I've Been Blessed! Use them to clarify your own thoughts about faith and finance or hand them out as a super-easy way to lead discussions.

BOOK APPENDICES
Appendix 1, 2 & 3 for HELP! I've Been Blessed!

THE BRUISED CAMEL
A free e-newsletter providing practical, spiritual support for affluent Christians. Includes testimonials, book reviews and biblical insights. Subscribe today.

SEMINARS
By God's grace, Julian has spoken to professional audiences in North America, Europe, Asia and the Pacific. He uses contemporary, compelling and creative ways to encourage Christians to fully open their heart's door to Jesus. He doesn't charge any speaking fees but does ask that basic travel and accommodation are provided for invitations outside south-east Queensland. For more information please contact Julian directly at arch@faith-vs-finance.org

ARTICLES & INTERVIEWS
We have a number of print-ready articles on topics related to Faith vs Finance and are able to prepare additional articles for media wanting to run a regular column. Julian is also available for television presentations and radio talkback shows across all international time zones. Please direct all enquiries to him at arch@faith-vs-finance.org

MEDIA RESOURCES
Hi-Res images of HELP! I've Been Blessed


Somewhere between joining the globe's wealthy in the revered "1% Club," and becoming spiritually bankrupt, Jesus knocked on the door of my heart - again. Scrambling over the mountain of blessings that I'd piled up inside my heart, I pulled hard on the door handle, but it wouldn't budge. What now?
I was born in 1969 to serial-entrepreneur parents and joined the madness early on. I spent most of my short working life enthusiastically helping to expand their various ventures.
A decade or so of winging my way around the world in search of money—and God—often left my jet-lagged soul about eleven hours behind me.
For way too long I got my energy from making profit graphs soar upwards. This had some lovely perks, but it also seriously taxed my relationship with Jesus—not that I dared to admit it at the time as I was still an "active church member".
I desperately, but secretly, wanted to be converted--again--but life's distractions and pressures held me too tightly. God had blessed me with so much--family, career, friends, income, investments, vacations--that I was too busy with the blessings to make time for God. After years of searching, I finally did discover how to reignite my 'first love' with Jesus--and now I can't shut up about it!
Woven into God's tapestry for my life, I've also escorted mafia drug dealers around Italy, negotiated with terrorists in the Himalayas, patted tarantulas in Argentina, and eaten the salivary gland of a calf.
I now live in a house full of family and friends in northern New South Wales, Australia.
Writing a "How to" book, and running Faith vs Finance seminars, may give me the appearance of being an expert, but nothing could be further from the truth. I am simply a completely and totally undeserving recipient of a timely message—an encouraging wake-up call—for anyone who's affluent enough to be heading for spiritual bankruptcy.
I love to snowboard, scuba dive and mountain bike, but they're all secondary to my number one passion—helping people to fully open their heart's door to Jesus. May the Lord continue to give me every breath, every heartbeat, and every ounce of strength that I need to humbly serve Him wherever He calls.
Email: arch@faith-vs-finance.org
"When a person prospers, either God gains a partner or the person loses their soul."

---
© 2017 Faith versus Finance
Privacy Policy: We will never give your contact details to anyone else and we can assure you that this project has nothing to do with any type of charity, fundraising or business venture.  It is simply a friendship ministry to inspire and encourage other blessed Christians around the world.